Guiltless Glamour is Laurie and Kim.
Two friends who love jewelry and jewelry making.
Three years ago at a bead shop in Atlanta, Georgia, Kim and Laurie started picking up beads and before they knew it they had purchased the ingredients to a passion and eventual business.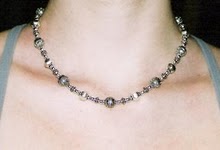 Sundays spent creating necklaces and bracelets for themselves, turned into days of creating jewelry pieces for friends and family, which turned into a collection you'll see displayed here on GuiltlessGlamour.angelfire.com.

Kim and Laurie have kept the same level of quality and creativity they had when they were making these pieces for themselves. They want their clients to enjoy each piece as much as they have enjoyed creating them. So be Glamourous without feeling Guilty!
We love Jewelery Fashion! Check out our favorite blogs and websites that keep us up to date on trends.